Духи с запахом нектаринового цвета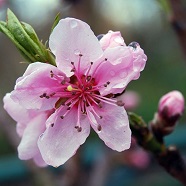 Нектариновый цвет излучает сладкий, медовый и немного терпкий аромат, который дарит ощущение игривой свежести и невесомости. Цветы нектарина имеют нежно-розовый оттенок с более насыщенной сердцевиной и во время цветения укрывают собой полностью все дерево. В их запахе можно уловить легкий привкус яблоневого цвета, жасмина и вишни, что придает им неповторимую роскошь и многогранность. В парфюмерии этот ингредиент используется на протяжении многих лет, что обусловлено высокой стойкостью и насыщенностью его звучания.
Духи с запахом нектаринового цвета покоряют своей невесомостью и особой мягкостью, которая оказывает умиротворяющее и расслабляющее воздействие на окружающих. Нота нектаринового цвета используется в восточных, ориентальных, фруктовых и цитрусовых букетах, придавая им соблазнительную нежность и деликатность. Этот компонент входит в состав многих женских, мужских и унисекс-композиций, дополняя их вкраплениями чувственной экстравагантности и пленительного соблазна.
Самые известные духи с нотами нектаринового цвета: Elizabeth Arden «Green Tea Nectarine Blossom», The Merchant of Venice «Suave Petals».
Ароматы с нотой "Нектариновый цвет":